Designing your eLearning courses with accessibility in mind is the best way to ensure you cater for a wider range of needs. One of the top tips for designing inclusive courses is to subtitle and caption your videos.
Video captions are a necessity for those that have hearing difficulties, but captioning provides other benefits too; a study by Ofcom showed that 80% of people that use subtitles do not have hearing difficulties.
With so much media accessed via a mobile device, captioning or subtitling video enables your learners to watch it in environments where audio is not possible. This has a great impact on widening the reach of your content.
Moodle and Totara Learn make it easy to add captions, subtitles, descriptions and chapters to your media content.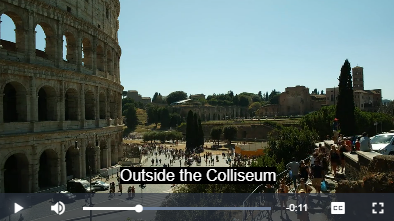 Subtitles provide viewers with a video's dialogue in written form.
Captions include subtitles plus a written description of what is occurring in their videos for viewers who might not be able to hear or understand the sound.
Descriptions describe everything happening on the screen for those with limited sight.
Chapters can be used for navigating the video.
The options for adding all these types of supplementary information are identical.
Subtitles, captions, chapters and descriptions can be added to videos and audios using a file format called WebVTT.
How to create a simple WebVTT file
In a simple text editor such as notepad, paste the following text, including the header, WEBVTT.
WEBVTT

00:00.000 --> 00:03.000

Here we are in Rome

00:04.000 --> 00:07.000

Outside the Colosseum

00:08.000 --> 00:11.000

There are lots of tourists

00:12.000 --> 00:15.000

...and it looks warm

This represents 15 seconds of video.

From 0 seconds to 3 seconds, the words 'Here we are in Rome' will show as a caption on the video

From 4 seconds to 7 seconds, the words 'Outside the Colosseum' will show

And so on…
Play your own video and pause where you would like your first caption to start. Note the time in minutes and seconds and write your caption, replacing the text above with your own text.
Play the video to where you would like the caption to end and note the time.
Repeat this for every caption in your video.
When you've finished click File>Save as
For the filename give it the following format: yourfilename.vtt
For file type just select 'All files'.
You have now created a caption or subtitle file.
1. Insert your MP4 video file via media toolbar button;

2. Choose the video tab.

3. Expand the 'Subtitles and captions' section and upload your caption file.
4. Click 'Insert media'

Your video will now display on the page with a captions option when the video is playing.
Click on the language to display the caption
Click on caption settings to increase the size and colour of the caption
If, for example you wanted to supply captions in a range of languages, create a separate file for each language and upload, adding a label for each language in the box provided. You can upload as many caption files as required.
Alternatively, you can upload a video to YouTube and use the in-built subtitle/caption tool to add your captions inside YouTube.
What Next
If you would like to get more out of your Moodle or Totara Learn site, we want to help. Call us on 0330 660 1111 or contact us via https://info.howtomoodle.com/contact-us.