We recently spoke to Strategic Programme Manager, Tracey Webster, from Cordie Ltd, about the Moodle theme we have created for Cordie's Virtual Purchasing Academy.
Cordie started using Moodle around March 2011 to establish the Virtual Purchasing Academy (VPA). The VPA is used to provide online e-learning support to complement the business' Chartered Institute of Purchasing and Supply (CIPS) education workshops, however, owing to the lack of experience and Moodle expertise within the team, the theme lacked the desired impact. Tracey comments on the initial theme;
"…the original theme looked a little one dimensional and therefore we were keen to enhance both the visual impact of the VPA, as well as the user experience."
HowToMoodle was approached by Cordie to design a new theme for the site. The brief was to design a clean and contemporary format in keeping with the design of the main company website. Cordie also required a more accessible, visual way to help users navigate to the different elements of their e-learning resources with ease.
Cordie's new theme was made live, and further updates have been made to make the most of the functionality available.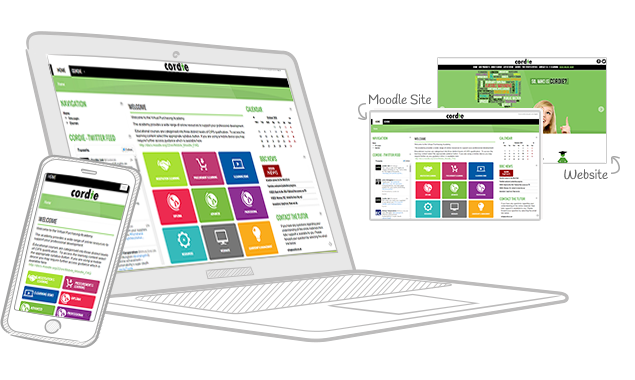 Commenting on the new theme, Tracey says;
"The new theme looks incredibly professional and aesthetically appealing. The layout is easy to follow and the use of colour not only enhances the visual effect, it also helps to distinguish our category of courses. Student feedback to the theme changes has been very favourable and in particular our users enjoy the new facility of downloading course materials."
"The team at HowToMoodle are always very responsive to our enquiries and the creative team did a very good job of interpreting our design brief for the new Cordie theme. We were extremely happy with the end result."
Why we love this theme
We love the impact that this theme gives – it's bright colours and clean, modern look not only complements the main site perfectly, but it creates an interesting look and feel that is certain to attract and engage its users.
In addition, the front page tiles function that has been recently implemented has allowed the company to promote many important aspects of their site (including course activities and resources) in a visually appealing way – a refreshing, modern alternative to the standard links layout. Each tile (and colour) represents a different category of courses, helping its learners to navigate the site easily. The flexibility of these tiles allow the company to update the tiles names and links as and when they need.
Need help?
Do you need to refresh your Moodle site? We want to hear from you. Get in touch today on 0330 660 1111 or drop us a line via http://info.howtomoodle.com/elearning-themes/contact-us.