We've had an exciting 12 months with lots of great new Moodle sites and designs created for a range of clients. Here we take a look at some of our best Moodle themes of 2015 that we are particularly proud of.
Select from the images below to take you to more information:
First Great Western – Now Great Western Railway - March
As one of our Design it! themes, we created this Moodle theme for Great Western Railway (GWR) at the beginning of 2015. Working closely with the team at GWR our creative team put together three exciting concepts that matched their branding and user requirements perfectly. After a few minor alterations, the final concept was produced and formed into a fully functioning Moodle site, complete with a responsive layout, image slider and Quicklink functionality. Overall, a great result!
Shrewsbury Sixth Form College - May
We choose this Brand it! Moodle theme as one of our top picks of 2015 because of its perfect complement to the college's main website and their branding requirements. We also love the extra aspects in the theme that are certain to engage it's students, including the Quicklinks and image slider options.
Commenting at the time, the college said; "We like that the 'life of the college' now comes across. Feedback so far is that it looks great, more designed and coherent. Students are also much happier with using Moodle – while the functionality and use of Moodle is the same, the actual feel of it is much different and has made a considerable impact as a result."
You can view our feature on Shrewsbury Sixth Form College's theme here.
Mindful Education – HE Course Provider - June
We were asked to create some brand new design concepts (using our Design it! service) for this organisation in June 2015, with the requirement to work with the company's existing branding but make the site engaging and user friendly. We loved the final result of this theme, which complements the branding perfectly and creates a fun, yet professional, finish.
Cheshire East Council - June
Cheshire East Council approached us earlier this year to put together a brand-matching Moodle theme that would be consistent with their Intranet site. They also wanted to make the most of our Tiles option so that they can improve the navigation and look of their Moodle site in the courses, section and category areas. We loved working on this theme, and are delighted with the result!
Cordie – Training Provider - July
This bright and engaging theme, created as our Brand it! service, gives a modern look which complements the company's main site perfectly. The theme also includes our front page Quicklinks functionality allowing the organisation to promote the most important aspects of their site in a visually appealing way.
Cordie at the time commented on their theme; "The new theme looks incredibly professional and aesthetically appealing. The layout is easy to follow and the use of colour not only enhances the visual effect, it also helps to distinguish our category of courses. Student feedback to the theme changes has been very favourable and in particular our users enjoy the new facility of downloading course materials." "We were extremely happy with the end result."
You can view our article on this theme here.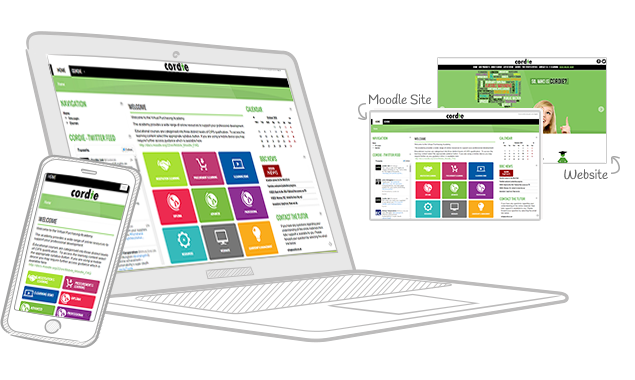 PRCA - Public Relations Consultants Association - July
Our consultants and creative team at HowToMoodle worked with the PR Association in July, creating a colourful and engaging theme that matched the brand that is portrayed on the company's main website. What's more, the additional Quicklinks feature on the homepage allows the organisation to create an exciting navigation option which is a refreshing alternative to the list of links that is commonly used in standard Moodle. You can read more about the features of our quicklinks, plus our tiles option here.
International Federation of Red Cross & Red Crescent Societies (IFRC) – International Charity - August
One of our more recent creations, this Brand it! theme created for the Red Cross has the benefits of an international reach with the theme working well in multiple languages. We also loved the seamless transition between this site and the company's main website, and it's ability to work well from a mobile or tablet – perfect for those accessing the site wherever and however they wish.
IFRC commented on the theme; "I am truly satisfied with the way our Moodle is running, much faster than before and with a better design. Also, we have new functionalities that I have never seen before and we are eager to explore."
You can view our feature on IFRC's theme here.
Blackpool & The Fylde College - August
We produced a new Design it! Moodle theme for the college in August this year, following their brief to create a clean, functional, minimalist design to complement their bespoke content. We enjoyed working with the college in creating 3 fresh concepts to lift their Moodle site and make it inviting and user friendly for both their staff and students. We loved the final production of this theme, with it's bright and vibrant design and clear, coloured quicklinks for ease of navigation.
British Veterinary Nursing Association - August
We created a brand matching (Brand it!) Moodle theme for our clients at the British Veterinary Nursing Association in August this year. The organisation already had a strong brand in which they wanted to retain throughout their Moodle site, and our Brand it! service was perfect for just that. The end result has produced a flawless transition for users moving from their main site to their Moodle site. This, along with a great looking, clean and user friendly site, is one of the reasons that this theme was in our top picks of 2015.
Need a refresh or a new theme for your Moodle site?
Visit our Moodle theme page to explore the options available, or simply get in touch here.