In the run up to our unmissable 'Success with eLearning' seminar on 7th June, we will be featuring more information on our speakers and their background, as well as a snippet into what they will be talking about at the event, and why you don't want to miss it!
This week, we would like to introduce our clients, Roger Emery and Rhiannon Spiller from Southampton Solent University.
About Roger, Rhiannon and Southampton Solent University and why you will want to attend this presentation:
Southampton Solent University has been using Moodle for around ten years as its primary VLE platform integrated with other university systems and serving over 12,000 students across all undergraduate and postgraduate courses. However there was a need for additional VLE provision to serve students outside of the standard university enrolment to provide a self-sign-up open environment which HowToMoodle were more than able to provide.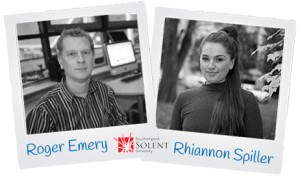 So far two courses have been hosted on the "Open Solent" platform, a very successful international induction programme and an ongoing maritime navigation short course that recruits fortnightly. A further twenty maritime short courses are now planned following the success of using the open platform as an alternative to the main university provision. There are also plans for Professional Development Units (PDUs) and taster courses in fashion retail along with another run of the international induction programme in September.
Roger Emery, Learning Technologies Development Manager, will outline the challenges Solent faced and how the HowToMoodle platform provided the solution. Rhiannon Spiller, e-Learning Support Officer, will then discuss the development and delivery of the international programme and the success of the maritime short course.
What Next
If you would like to get more out of your Moodle site, we want to help. Call us on 0330 660 1111 or contact us via http://info.howtomoodle.com/contact-us.