Earlier this year Totara Learn published an interesting article with Julia Dirksen on the importance of feedback in eLearning. This acts as a great reminder of why feedback is so important to improve the entire learning experience. After reading why feedback is so important, I'd like to share how you can collate feedback using existing functionality in Totara Learn.
Imagine this scenario:
You've spent time with your SMEs understanding the subject and developed what you think is a great online course, you've even had learners completing it, but struggling to get that coveted feedback. It's an all too familiar feeling for trainers.
This is where Totara Learn's course reminders come in handy, they enable trainers and administrators to set up scheduled, customisable e-mails that are sent out after learners have completed the training to come back and provide you with feedback. If you're an existing user of Totara Learn the chances are you haven't ever noticed it as it's an often-overlooked feature.
One reason for this is that it only appears after you have a Feedback activity added to your course within the Course Administration block as "Reminders".
To set up your reminder you'll need to first set what completion you want to track, this can be any activity or entire course completion, then select which Feedback activity needs to be completed.
After you have done this you can then configure three different notifications:
Invitation
Reminder
Escalation
For the invitation and reminder, you decide how long after the target activity/course completion should the e-mail be sent e.g. 1 day after completing the final Quiz (up to 30 days after the event). You can configure the messages with placeholders including:
First name/Last name
Link to the course
Course name
Manager name
Number of days since completion
Number of days until deadline
The final escalation email will automatically be sent to the user's manager, but you can prevent this via a check-box and you can prevent the escalation email being sent entirely if needed.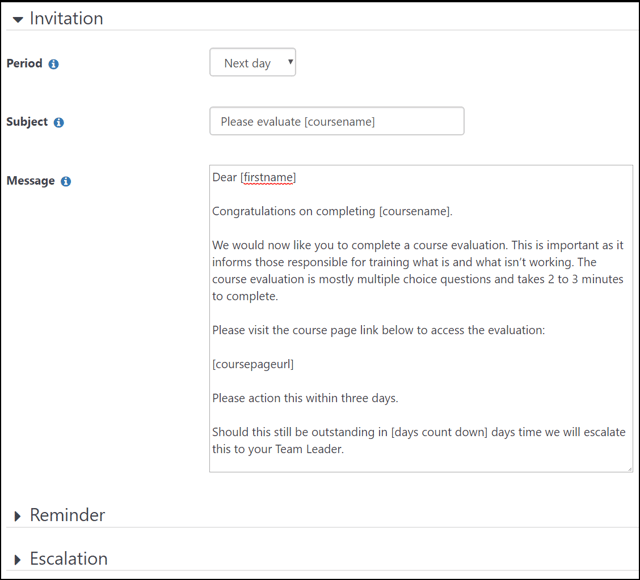 This is a great tool for trainers to get the feedback they need and can really help to increase the level of feedback that is provided by the learners.
As well as reminding learners to complete feedback, this can also be used as a neat tool to send any kind of automated message based on activity or course completion. For example:
Send reminders of the key points of an activity for reinforcing the learning
Re-engage your learners with the platform by suggesting other courses they may be interested in
Send helpful tips and advice on the topic(s) covered
Ask for feedback about a specific activity (how did they find the Assignment?)
Provide useful resources and links to social media accounts to continue the learning
Just remember you'll need a feedback activity in your course to make this feature available. You don't need to reference or link to it, it just needs to be on your course to send the reminders.
What Next
If you have any other ideas of how to make use of this feature you can tweet us @howtomoodle or me directly @ianmack_htm
Do you need help with Totara Learn site? We want to help you. Call us on 0330 660 1111 or via our website at http://info.howtomoodle.com/contact-us to discuss how we will turn your requirements into a great project!