Totara's latest release is upon us, and brings with it a new name too: Totara Learn. This new release, version 10, has some great new features and improvements that I want to share with you.
There are visual and accessibility improvements, features to make administrator's and trainers lives easier and enhancements to improve the learners experience. Here are
some of the many new and updated areas of functionality.

360 Self-Evaluation
You can now get the full 360 view by including the employee's self-evaluation as part of the 360 Feedback process. This saves you having a separate self-evaluation form and enables staff to compare their own evaluation with those from peers.
Self-evaluation is an optional new feature to the 360 Feedback tool allowing Administrators to require that it is:
Optional
Required
Not allowed
Featured Links
This is one of our favourite new additions to Totara Learn, enabling administrators to create visual tiles to appear on just about any page through your site. These tiles can point to any URL or to an existing course. You can choose small, medium or large tiles, upload images or choose a background colour, even dynamically display different tiles based on set criteria.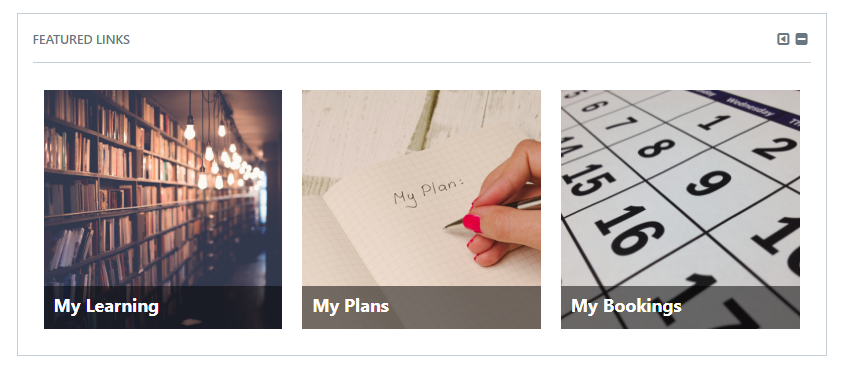 Improved course progress
Another of our favourites for v10 is the course progress bar. In previous versions there were 3 progress states for learners "Not yet started", "In Progress" and "Complete". With v10 these have been replaced by percentage bars indicating exactly how much of a course the learner has completed.
This means that learners can have an accurate, visual display of course progress as soon as they log-in and access their Dashboard. For trainers and administrators this provides an easy insight into their learners' progress when viewing a report.
Self-completion
Tracking user progress through a course is much-needed functionality for trainers, managers and learners. It drives the reports that are needed but also informs the learners on how they are progressing.
For the activities where a learner can mark themselves as complete, Totara Learn now provides the ability to do this from within the activity itself (rather than on the main course page), which is a great improvement for user experience.
Notifications and Messages
Keeping your users informed has become a lot easier with Totara Learn's new messaging and notification interface. These two icons bring a familiar, social-media style of notifying your users about new messages or alerts.
Notification preferences can even be set by the user to control what notifications they receive and how they receive them.
Course completion editor
A request that has been popular on the Totara Community forums is included for v10, the course completion editor. This is one for the administrators, enabling them to manually edit the completion records (with full audit history) of learners in a course.
Responsive, interactive and accessible charts
A great visual improvement for Totara Learn 10 is the update of the charts library to a more modern, responsive and interactive library. If you're not sure where you'd see charts in Totara, think Choice results, Feedback analysis, Grades and Statistics.
The new charts will dynamically update, respond to the screen size you're using and provide detail when hovered over. Accessibility is improved too as the colours have been chosen to have the broadest visual appeal and a table of the data is available beneath each chart.
Responsive and accessible media
Totara Learn has had a responsive video player for MP4s for some time but having responsive, embedded online videos has not been easy. With v10 all media content is displayed through the new Video.JS player meaning that all media displays perfectly for the device the learner is accessing from.
Another great feature of the new media player is the support for captions, subtitles and chapters which greatly enhance the accessibility options for adding multimedia to your online courses.
Recycle bin
Ever get that sinking feeling when you've deleted something you know you shouldn't have? Totara Learn now has a recycle bin to bring back those items you feared were lost forever! This is a great new feature allowing you to bring back resources, activities and even whole courses that have been deleted.
Red, Amber, Green ("RAG") compliance status
A popular request for organisations with compliance on their mind, Totara Learn now has colour coded compliance status for learners completing Certifications. The Red, Amber, Green status allows you to view a report and easily monitor the compliance of your staff.
You can filter based on the general status and see the dates they completed or need to complete by.
User tours
Another of our favourite new additions to Totara Learn is User Tours, enabling administrators to create tailored, visual tours of any page across the site for any type of user. These click-through tours take users through each area of the page they're visiting and can be re-visited at any time.
These are perfect for onboarding new users with the platform, providing extra support for content creators and many more possibilities too.
Pinned and Locked Forums
This is something we are asked a lot when speaking to clients about Forums, administrators and trainers can now "pin" forum posts to the top of the discussion board so they don't get lost amongst the other posts. They can also lock a discussion when it hasn't been active for a period of time; no more bumping of old topics!
Other new features and improvements include:
Single-course Program improvements
Issuing Badges for Programs, Certifications and Audience membership
Reporting performance improvements
New and improved report sources
Appraisal message placeholders
Self-registration with administrator approval
Want to upgrade your Totara Learn site?
If you're an existing client with us we can upgrade your site for free with our hosting plans*. Just get in touch and we'll be happy to talk you through it.
Not sure yet?
Download our comparison table for Moodle 3.3 vs Totara Learn 10.
What Next
Do you need help with your Totara Learn site? We want to learn about your requirements. Call us on 0330 660 1111 or via our website at http://info.howtomoodle.com/contact-us.